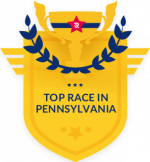 Welcome to the official website for the 23rd annual Kiwanis-Sesame Place Classic!
This is your one-stop shopping place for all things Classic, which was run for the 23rd time on Sunday, May 21st 2023 in Middletown Township.
Over the years, the Classic has become one of the most popular events on the local race calendar – a day for the entire family to enjoy a full slate of activities.
And where else can you finish a race and get a high-five and photograph taken with a favorite Sesame character?
Partying since 1999
Since 1999, tens of thousands of runners have participated in one of the three competitions to have fun and help raise money for the Dick Dougherty Honorarium Awards.
During that time, the awards have generated a total of approximately $450,000 in college financial aid for 18 Bucks County high schools, including a donation to 34 top scholar-athletes each year.
There are plenty of special activities planned for this year's event.
Only pre-registered runners are assured of receiving a Sesame Place Classic T-shirt.
The race presents its annual "Spirit Trophy'' to the school, club or organization which signs up the most runners.
Members of the Levittown-Bristol Kiwanis Club have worked since the founding of the event to put on the Classic and raise money for local scholarships.
Awards are presented in memory of former Bucks County Courier Times sports editor Dick Dougherty and aims to recognize local high school athletes who strive academically and contribute to community life – a balance of ideals that Dougherty valued.
At the Classic, the 1-mile fun run is scheduled to begin at 7 a.m., followed by the 5K at 8 a.m. and the Kids' Sprint at approximately 8:45.
The race is presented by the Levittown-Bristol Kiwanis Club with help this year for the first time from the Bucks County Herald.
Past results:
(Due to COVID restrictions, the Sesame Place Classic was canceled in 2020 and 2021)